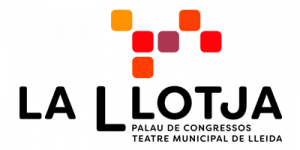 Av. de Tortosa, 6-8 – 25005 Lleida
Tel. 973 22 11 55 – info@lallotjadelleida.com – www.lallotjadelleida.com
La Llotja is one of the most iconic buildings in Lleida. It is a part of the skyline of a modern and enterprising city. A conference centre whose mission is to be a hub of the business world and, at the same time, a first-rank cultural facility, with a full and varied programme, thanks to its role as the city's theatre.
The Lleida Conference Centre is located next to the Segre River, the real heart of the city, in the economic core of Lleida. It has 37,500 square metres created to host events of all kinds. The building was designed by the architect Francine Houben, who comes from the prestigious Dutch architecture studio Mecanoo, which has received prizes, honours and praise for originality and functionality.
The Conference Centre – La Llotja building is located in the area where the traditional peasant market took place in the past. It's a place that combines the old markets' local produce traditions, and the modernity of a modern business environment, in roomy well-lit spaces equipped with the latest technology.