Spanish Glial Network Satellite Event
EVENT TITLE: 11th Meeting of the Spanish Glial Network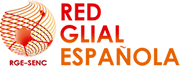 AIM:
This event is focused on gathering researchers working in Spanish institutions whose interest in focused on glia. Current members of the Spanish Glial Network cover multiple aspects on the contribution of glial cells to nervous system function and dysfunction from very diverse viewpoints and approaches, including morphology, electrophysiology, animal models, cell and organotypic cultures, optogenetics, pharmacology, genetics, proteomics or flow cytometry to mention but a few. Given the multidisciplinary origin of Spanish gliologists we believe this meeting will promote collaboration between groups and researchers of diverse backgrounds, but it will also serve as an exhibitor for a broader audience, including those not currently working in glia.
PROGRAM:
Wednesday 3rd of November (Auditorium 2)
8:30-8:45      Welcome and inauguration.
8:45-09:30    Oral presentations.
8:45    Valerié Petegnief (IDIBAP): Characterization of microglia diversity through live cell image analysis.
9:00    Javier Palazuelos (UCM): CB1 receptors deficiency in oligodendrocyte precursors disrupts postnatal oligodendrogenesis and causes hypomyelination in mice.
9:15     María Gamarra (Achucharro Basque Center): Contribution of astrocytes to local translation in neurons.
9:30-10:00   VI Laia Acarín Award: Beatriz Fernández-Gómez (Hospital Nacional de Parapléjicos- SESCAM):
Myeloid-derived suppressor cells support remyelination in a murine model of multiple sclerosis by promoting oligodendrocyte precursor cell survival, proliferation, and differentiation.
10:00-11:00  Plenary Lecture Dr. Maarten Kole (Netherlands Institute for Neuroscience):
Interneuron myelination, same wrapping but different function.
11:00-11:30  Coffe break.
11:30-12:30  Poster session (Exhibition Hall).
12:30-13:00  Assembly.
Venue:
Palau de Congressos de Lleida "La Llotja" Av. de Tortosa, 6-8, 25005 Lleida. Tel.973221155.
www.info@lallotjadelleida.com; www.lallotjadelleida.com
6th LAIA ACARÍN AWARD:
Is you are interested in applying to the 6th Laia Acarín Award please check your eligibility in https://redglial.senc.es/premio-laia-acarin/ and send the required information to redglial@gmail.com indicating "Laia Acarín Award" in the mail subject.
REGISTRATION:
To attend the 11th Meeting of the Spanish Glial Network you must be registered for the 19th Meeting of the Spanish Society for Neuroscience which will be held in Lleida and pay a symbolic fee of 25 € to cover the meeting´s expenses. More information can be found in https://congresosenc.es/registration/.
For questions or concerns please contact us at redglial@gmail.com
REGISTRATION CLOSED